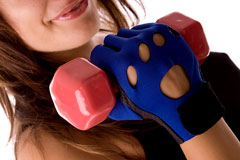 Our bodies' physical fitness is maintained through regular exercise, by staying active, by eating the right foods, and by getting the right amount of sleep.
Fitness equipment such as stationary exercise bikes, elliptical trainers, and treadmills can help enhance users' cardiorespiratory health. Each of these devices has its pros and cons. An exercise bike can provide a lower body workout with no punishing joint impacts, whereas a treadmill can provide a full body workout. However, running on a treadmill can adversely impact a runner's knee and ankle joints. An elliptical machine provides a full body workout with no punishing joint impacts.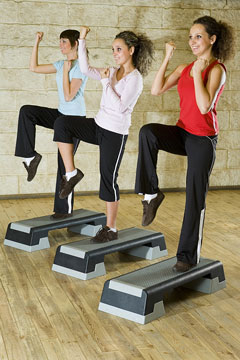 While joining a fitness club and using the equipment at a gym can keep us involved in a workout routine, home gyms and weight benches have become popular in recent years. Many homeowners find it convenient to have exercise equipment available for use early in the morning before work, or for evening use after work. Regular exercise with this equipment promotes muscular strength and endurance, increased flexibility, and good cardiorespiratory health. Heart rate monitors, commonly used with exercise machines, make it easy to track one's heart rate and regulate exercise intensity. Normal daily activities such as walking, stretching, gardening, and house work also help to keep our bodies flexible and in top physical condition.
Good nutrition is another important factor that affects the fitness of our bodies. Vitamins and minerals provide nutrients that can build and repair cells, while fats, carbohydrates, and proteins provide energy-producing calories. Water is also an important nutrient — one can survive for days without food, but not without water.
Last, but not least, everybody should try to get about 8 hours of sleep each night to help restore their body's immune system and energy level.
Alphabetized lists of, and links to, fitness equipment manufacturers and exercise clothing retailers throughout the United States are available on these manufacturer and retailer directories. Several types of fitness and exercise activities are illustrated on this exercise video portfolio page.